Octinion
PRESS RELEASE: Octinion presents the world's first strawberry picking robot
01 February 2019
R&D company Octinion from Leuven (Belgium) presents its fully autonomous strawberry picking robot during trade fair Fruit Logistica in Berlin. After 5 years of development, it is the first company in the world to market this piece of innovation. The launch is crucial for the sector.
A strawberry picking robot doing better than a human
A robot that navigates through the strawberries, detecting ripe ones, picking without bruising and placing it in its punnet. It sounds futuristic but it is possible as of today thanks to Rubion, the picking robot for strawberries. This piece of Belgian innovation is not only an answer to the labor shortage in the sector, it allows growers to increase the quality of its produce – which in the end benefits the consumer.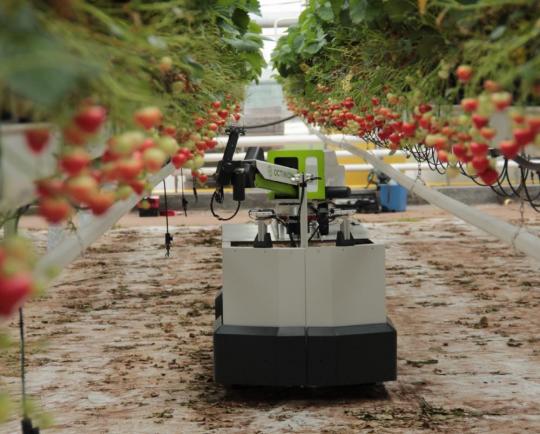 Agricultural robotics: more than just a trend
Demographic and socio-economic numbers show that the labor shortage in the sector is a fact. But for Octinion the focus is clearly on adding quality. "Thanks to robotics, we have so many possibilities, much more than a human could ever do. Harvest prediction, picking according to market needs, simply picking when the berries are ripe instead of when workers are available – these are just a few examples of what is possible as of today for a grower," says Tom Coen, CEO of the Octinion Technology Group. "The consumer will also notice the difference, as strawberries will be fresher and show less bruising."
Turning the sector upside down
Introducing robots in a sector where almost everything gets done by hand, that's more of a revolution than an evolution. It calls for close collaboration with all stakeholders. Tom Coen: "not only have we been working together with growers and test centers across the world for the past couple of years, breeders have also been keen on being part of the technological developments. Growing systems and varieties will adapt to what is more ideal for a robot. We will have a robot driving around at the Dutch Fresh Forward Breeding and collaborations with other breeders to shape the future of the sector. Our door is open for additional breeders."
Five years of development done in Leuven
In 2014 a team of Belgian engineers started the development of the prestigious robot. In the meanwhile, Octinion wasn't the only company presenting a concept. Product Manager Laura Guillaume says it's not a surprise that the company from Leuven is the first to actually present a commercial product: "by developing the robot from scratch, we are able to make it economically viable. We can serve all table-top growers, in greenhouses or tunnels." Next to the picking robot, a whole range of harvesting solutions are for sale as of today. Octinion plans on launching harvesting robots for other crops in the upcoming years.