Octinion
Measurement services
Measurement campaigns are often essential in R&D-projects to gain insight in the project or machinery. Setting up a good measurement campaign takes quite some knowledge, experience and/or equipment. If you don't have these available in your company, our services will help you save time and gain quality. We support from concept to execution, including instrumentation and rental.
Are you eager to perform the measurements yourself in order to build up process knowledge? With our equipment and support, you can still do the measurements yourself but yet save a lot of time.
Benefits of Octinion's measurement services
No need to invest in equipment (sensors or acquisition devices) that you only need occasionally.
Reduction of errors in the set-up and execution of your measurement campaigns by making use of expert knowledge. Get good measurements from the first to the last test.
No more learning curve to program measurement devices. All our systems come with an easy-to-use, flexible interface
Use the best suited sensor for the job – make use of state of the art equipment
Flexibility: we can take care of everything from experiment definition to report, or we can help you to do it yourself as efficiently as possible. The choice is yours!
Selection, rental & purchase of sensors and hardware
Selection of the necessary hardware is often one of the most tedious tasks in a measurement campaign. For each measurement you have to compare specifications of different sensors, which costs a lot of time. Depending on your objective we can rent you a set-up (or parts thereof), or we can make recommendations on which hardware is most suited based on our experience.
We can also assist in the experiment definition, and help you to clearly define the objectives. Based on the experiment definition and the sensor specifications we recommend you the optimal measurement solution.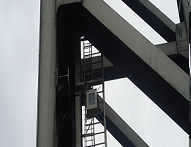 Instrumentation
Mounting sensors correctly is crucial for good measurements. Our approach is flexible: we can advise you on how to mount each sensor and validate your set-up, or we can take care of the entire instrumentation process.
If you need to measure forces on existing structures, strain gauge technology is often the best option. We can mount strain gauges on site or instrument the component(s) at our location.
Execution & analysis
We work with the ITM Suite for our measurement campaigns, which means the hardware is very intuitive and easy to work with. You can perform the measurement yourself, we can advise during the measurement, or we can do it for you. We can also help you out with analyzing the resulting data.
Other services & solutions
Mechatronic product development

At Octinion we believe in long-term customer relations. We want to be your help line for all the technological problems you encounter in the field of mechatronic product development ... Do you have an idea for a new product, but you lack the technological knowledge? That is where we come in!

Custom test & measurement solutions

Octinion is the ideal partner for all your measurement challenges. A specific set-up may be required to measure the performance of your machine, or get more insight in the process.

Data analysis & algorithm development

Get the most out of your data! A process model, sensor fusion or a control algorithm? Octinion has a full service offering to assist you in all your development needs, be it as a consultant, component supplier or development partner.